ANNOUNCEMENT
Join us for our panel discussion
Getting Your Research Paper Published in International Scientific Journals
on 28 July. Successfully publishing your research paper in international scientific journals is an effective way to get your work acknowledged and cited by other researchers and can also enhance your institution's reputation. However, the road to publishing is full of challenges, from approaching the journal to the writing process, as well as demonstrating research integrity – all of which requires hard work and dedication. An informative and engaging day awaits university leaders, faculty members and researchers!
When & Where: Wednesday, 28 July 2021 | Virtual
Time: 10:00 AM – 12:30 PM PHT (GMT+8)
The challenges in writing a research paper with integrity
Tips, tricks and tools to enhance researchers' academic writing skills
How technology can help you gain the confidence of submitting your paper
How to select international scientific journals to submit to/ approach
How to deal with editors' reviews
After being published, how can you get your work cited by other researchers
How to successfully receive a research grant
Q&A session
To register, click the link below.
We can't wait to see you there!
————————————————————————————————————————-
Press Release of TLC in the recent upgrade of the ADDU Libraries' management software
The Library Corporation Implements First Library•Solution Version 5.x in the Philippines
https://tlcdelivers.com/2021/06/03/the

-library-corporation-implements-first-librarysolution-version-5-x-in-the-philippines/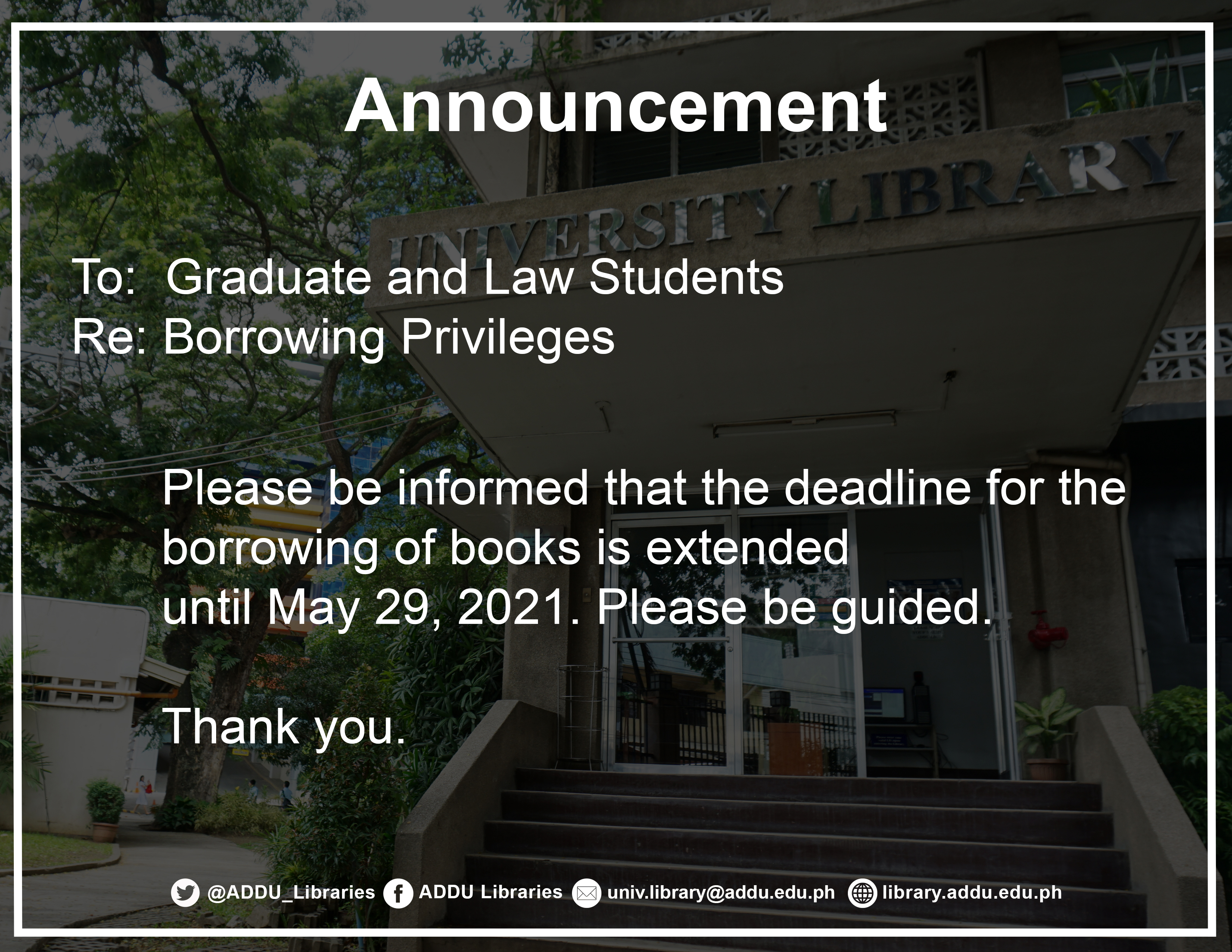 To: The University Community
From: University Library and Audio-Visual Center
Memo: 2020-003
Title: LIBRARY ADVISORY
To continue providing services to the ADDU Community in this time of pandemic, we wish to inform the community of the following:
Library Service Hours:
The Fr. Mateo Gisbert, SJ Library, The Miguel Pro Learning Commons, and the Law and Business Graduate Library will open Monday – Friday, 9:00AM – 4:00PM to serve the faculty members of the community.
II. Library Services:
Since students have no access in the campus during this time, and in order for the library to continue supporting their information needs, the following services will be offered by the library.
II.1 Borrowing of Books
A Book Borrowing Drive-Thru facility will accommodate students who will borrow print materials at the tertiary libraries. This will be located at the ADDU Law School Gate (E. Jacinto Street, Davao City), and is open from 9:00AM – 4:00PM only, from Mondays to Fridays effective July 16, 2020. The guidelines are as follows:
Students are encouraged to browse the library collections in the Online Public Access Catalog (OPAC) at https://opaclibrary.addu.edu.ph/?config=college
Log in to the OPAC to place a hold on a certain library book. Follow the steps below.
For your Library Card Number, key in your complete barcode characters.
Ex. 8201300123456N or 8201300012345N
For your PIN, use your patron code, which is the last 5 or 6 digits of your ID Barcode, excluding the last character. Please change your PIN immediately.
Ex. 8201300123456N or 8201300012345N
Start searching for items. Enter Keyword, Subject, Title, or Author's name in the search box. Click the Search button or press Enter.
Click on the title of your choice to view its bibliographic information and place a hold by clicking on the PLACE HOLD button. For the detailed procedures, please see https://library.addu.edu.ph/frequently-asked-questions/
In case placing hold is not possible, students may also send an email to univ.library@addu.edu.ph ahead of time for the list of materials to be borrowed. Use addu.edu.ph email to speed up transaction. List of books should include the following information:
Title
Author
Copyright Date
Call Number
Librarians and AAs will retrieve the requested materials from the shelves and will send an email once the books are ready for drive-thru Students will be notified to sign up the library drive-thru borrowing form to schedule the date and time of pick up.
Only the borrowers or parent/guardian for students below 21 years old are allowed to pick up books at the library drive-thru area. Bring student ADDU ID/Encoded Registration Form and any government ID for parents/guardians for verification.
All enrolled students who may wish to re-borrow books currently on their possession may renew the books online through Online Public Access Catalog (OPAC) at https://opaclibrary.addu.edu.ph/?config=college. Please find the procedure on how to renew library materials on this link https://library.addu.edu.ph/frequently-asked-questions/
All borrowing patrons are encouraged to return the books on the due date to avoid fines and penalties. Please see the procedures on how to return the book via Book Drop.
II.2 Returning of Borrowed Books
All borrowed books may be returned via LIBRARY BOOK DROP. Guidelines are as follows:
Fill out the book drop form. Download form here or at the library's website library.addu.edu.ph
Take a photo of the books to be dropped as proof of return and send as an attachment to an email to univ.library@addu.edu.ph or at ADDU Libraries FB Messenger.
Place and secure the form together with books in a paper/eco bag.
Drop the books in the BOOK DROP boxes provided at the entrance of Rodriguez Hall near the guard station. Book dropping schedule is from 8:00 AM – 3:00 PM, Monday – Friday.
Wait for the acknowledgment receipt sent through the ADDU email.
For more information and concern, please contact:
Ateneo de Davao University Libraries and Audio-Visual Center
E. Jacinto Street, 8016 Davao City
Website: https://library.addu.edu.ph/
Telephone: (082) 221-2411 local 8229.
e-Mail: univ.library@addu.edu.ph
FB Page: @ADDULibraries
Twitter: ‎@ADDU_Libraries
Webinar